Definitely One of the Best Locations in Potomac Green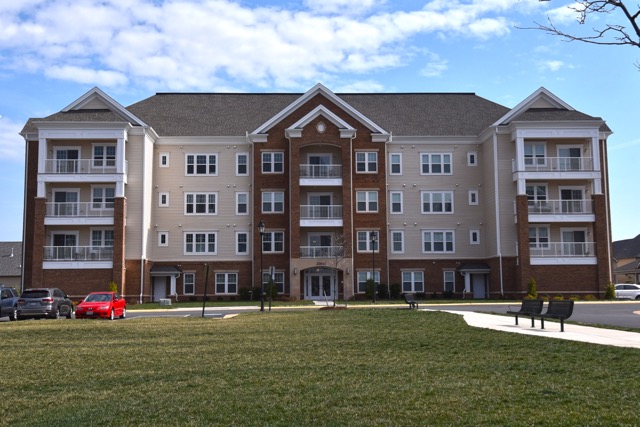 For a 55+ community, this condo checks off a lot of important boxes. Top floor, expansive view of green space and sunsets, great living space that has been wonderfully enhanced and a recreation center like no other.
The fourth floor means that no one is above you. You will never have to wonder when you will hear the first annoying, heavy footstep that may be the foreshadowing of what is to come. The view from your balcony goes on for miles and is often accompanied with incredible sunsets.
It's also nice to feel connected to the community with the view of the grassy common area. You will never feel isolated wondering what is going on outside your condo when you can see the comings and goings of your fellow residents.
The current owners have added over $16,000 worth of custom built-ins to make this large condo (1,650 ft2) feel even more roomy and spacious. This is above and beyond the many builder upgrades that they spec'd out. This two bedrooms and two baths home also come with a private one car garage and separate locked storage locker.
Like many people, the owners had a reluctance to leave their three-story, single-family house. Their concerns, however, were quickly removed when they discovered all the amenities and activities that the premier Ashburn 55+ community of Potomac Green has to offer.
Potomac Green's amenities include a 29,000 square foot recreation center, home to a world-class fitness center, indoor and outdoor pools, and an indoor running /walking track. Outdoors are tennis courts, bocce ball courts, gardens, walking/ jogging trails – plus pickleball courts.
Contact me with any questions or to schedule a private showing.