Jake Thiewes Racing: Championship Race Results
Well, we said there would be updates and results posted after Jake returned from the National Auto Sport Association's Eastern States Championships. And now that Jake, my wife Paula and I are all back home, it's time for those updates.
The Eastern States Championships is an annual race, held at a different racetrack on the East Coast each year. Although there is also a Western States Championships, competitors from all over the country showed up – some from as far as Wisconsin and California. Jake drove down on Thursday afternoon to help run the event, as he was also the Chief of Pace and thus responsible for driving the pace car (and coordinating duties with two other drivers) throughout the weekend.
Jake's competition began Saturday morning and ended on Sunday evening. His format of racing is called Time Trial, in which competitors aim to achieve the shortest lap time possible. Cars are split into various Time Trial classes based on their modifications, power, and weight, and drivers compete within their car's class. The BMW M3 that Jake races fits into the "TTD" class and the class was ripe with competition this weekend. Each competitor's best lap time – set either Saturday or Sunday – would be used to determine the final results.
All of the cars competing at the Championships must go through a stringent inspection to ensure they meet minimum weight standards, proper power levels, and are running in compliance with rules for their class. Jake discovered early on Saturday morning that he would be under the minimum weight of 3,180 lbs (with driver) and scrambled to add weight to the BMW before his first 20-minute race session.
After adding more weight, the car proved to be reliable all weekend and Jake didn't encounter any hiccups otherwise, save for a cracked brake rotor at the end of Saturday that was easy to change in roughly ten minutes.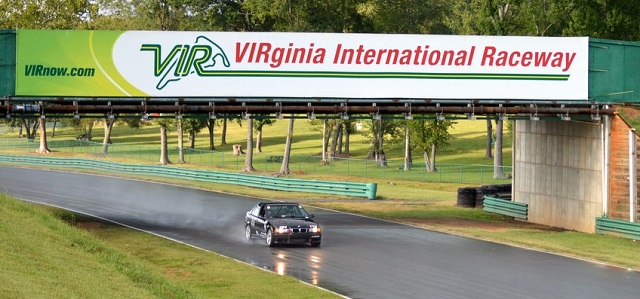 His hard work all season paid off on Sunday morning, where he drove the car to a new personal lap record of 2 minutes, 18 seconds – 4 seconds faster than his previous best. While he claims there is still more learning and work to be done in order to shave even more time off in the future, he was thrilled with the result and placed 4th in class for the weekend.
Check out some "hot laps" in the video below, and stay tuned – there are two more race weekends this year. We'll report back with results from the October event at Virginia International Raceway and November event at Summit Point Raceway as we have them.