5,695 Lbs of Paper: October Shred & Recycle Wrap-Up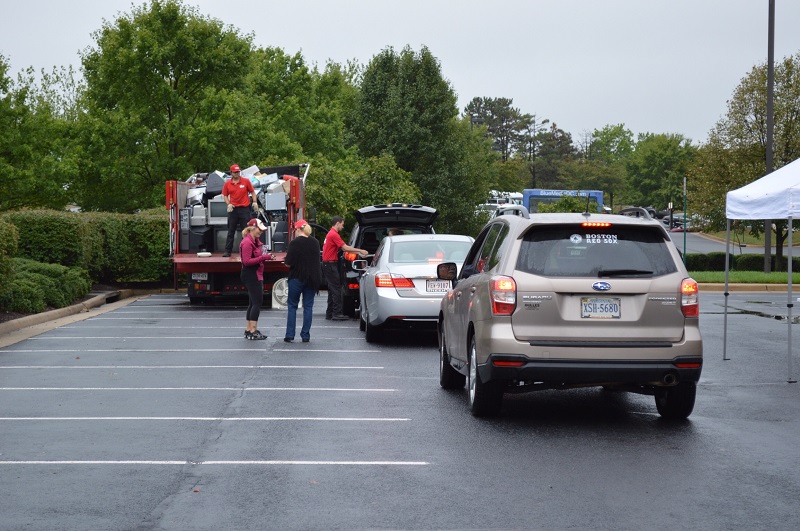 From now on, all future shredding & electronic recycling events will say "rain or shine." Prior to the date it seems that the 7-day weather forecast always promises clear skies and then delivers various amounts of rain. While I question the likelihood of having a big turnout with gray skies and pouring rain, it appears not to matter. Last Saturday was no exception.
Prior to our 9:00 AM start time we already had a line that was 10 cars long. I had a feeling that this might be a big day with a large turnout and it was. We had to turn people away (unfortunately) at 12:00 noon and the last car finished shredding at 12:20. The electronic recycling truck was full at 11:16, but still somehow was able to find a bit more space for another 15 minutes. When it was all over we had helped 215 people shred their sensitive documents (5,695 lbs) and recycle unwanted electronics. This was our second largest event to date.
For those of you who weren't able to stop by or have file cabinets and storage rooms that still need to be cleaned out, please mark your calendars for Spring 2017. Once we have a date it will be posted here and an email announcement will go out to everyone on my list. Are you on my list? If not, drop me a note and you will be.
While I'm at it, a big thank you to the co-sponsors that helped make this possible. Should you have a need for their services please consider giving them a call. They are all seasoned pros that know their professions and always deliver top-notch service: