Do You Remember How Excited You Were to Get Your Driver's License?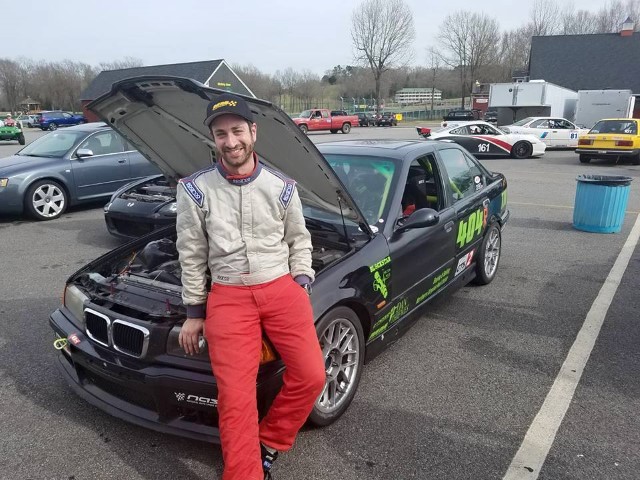 Getting your wheel-to-wheel Competition License is all that and then some. Earlier this year Jake got his. The casual relationship that started with working at Summit Point Raceway (Summit Point, WV) and Virginia International Raceway (Danville, VA) in 2008 steadily progressed to doing High Performance Driver's Education (HPDE) in 2010 in a borrowed car. After he graduated from college in 2011, he started modifying his own Mazda Miata by adding a roll bar, high-performance suspension, and stickier tires. Three years and two blown-up Mazda engines later, it dawned on Jake that even at its peak, the Miata was a bit cramped for his 6'2″ frame, and a bit slow in a straight line. So, he went to northern New Jersey and brought home a 1997 BMW M3 sedan.
To me, the M3 looked like a really nice daily driver. In fact, it had been just that for a recent college graduate. To Jake, it looked like a race car in the making. He promptly removed most of the interior, leaving only two racing seats, a roll bar, and two sets of six-point harnesses. Oh, and part of the dashboard.
After three years of successfully competing in NASA's Time Trial program (1st place in his class in 2014 and 2016, 2nd in class in 2015), he finally decided it was time to go full-on "wheel to wheel" racing. Wheel-to-Wheel racing is an acknowledgement that you are engaging in a contact sport. While the aim is to always play nicely and avoid each other while driving 100+ mph, inches apart, things can happen. Being involved in an "incident" just comes with the territory. A miscalculation can mean going off the track (and hopefully, coming back on safely), glancing off another car and even taking an uncontrolled ride that ends with the car being stopped by a tire wall.
Jake spent this past winter preparing the car and himself for a new chapter in his racing career. He had already exchanged the bolted-in roll bar for a welded-in roll cage that now extended to the front half of the car – in early 2016. To that, he added a detachable steering wheel, side window net, and five-nozzle fire-suppression system – ensuring maximum preparedness should anything go wrong. He then spent time studying the Club Codes and Regulations, which led to a full day of on-track skill tests and a four-page written exam in March 2017. Jake was one of eight students to earn his license that Friday – out of a class of 21.
A recent weekend at Dominion Raceway touched on a lot of things that a spectator would think is exciting and a parent would find very unnerving. Saturday's race involved a squeeze play by another car that left some of his paint on Jake's black door (Jake and my logo were both OK). Later in the same race, two Mustangs in a different class decided to sandwich around him approaching a curve, and it didn't end well for one of them. On Sunday, Paula and I witnessed Jake chasing one of his competitors through a turn with a bit too much speed, going off the track mid-corner, and then being thrown across the track in a cloud of dust. In the slow-motion moment we were both wondering how he would stop and how safely. Luckily, he was out of the traffic flow when he stopped. After a nano-second to compose himself, he raced off to join the pack.
As parents, we knew that Jake would surely be upset with what had happened. As a true racer, he thought it was great. Had he approached the corner correctly, it would have meant passing one, perhaps two other cars in his class. For him, it was just a great learning experience.
As they say, "watch this space." There will be more posts about Jake Thiewes Racing as the season progresses.