Deer and Car Collisions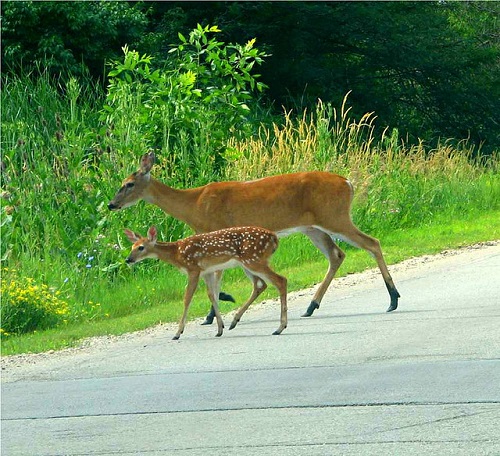 Deer and car collisions are up!
If you drive in Loudoun County, beware of deer, especially at this time of year. While the numbers are slightly dated, they bear repeating. In 2013, AAA Mid-Atlantic released their figures for deer and car collisions and the results were sobering. Loudoun County led the state with the most deer-related vehicle crashes with 360 while Fauquier County followed with 259. The three months of October, November and December account for 55% of these.
With this in mind, it's important to stay alert when driving by any place that might harbor a deer ready to sprint across the road in front of you (and your car). Driving down Belmont Ridge Road in the middle of a nice fall afternoon, I watched in amazement as a deer jumped a 4 foot high fence, ran parallel with the road and then suddenly decide to take a hard left to run in front of me. Luckily, my eye-foot coordination was on top of its game and I was able to avoid touching it with my car.
Dusk can also be an important time to be wary. While driving home on Broadlands Boulevard in Ashburn during the early evening, I had a deer run in front of my car. After slowing down, I thought that perhaps I should be on the look out for another deer that might be following the first one. Immediately after the thought, a second deer dashed in front of me. Now, while virtually stopped in the road, I thought about whether there could be a third one waiting to make the same run. Sure enough, number three made the same foolhardy sprint in front of my car. After all of this, I literally crawled the car home and didn't relax until the garage door went down.
Drive safely out there.
Photo: broklnhrt2 on Flickr